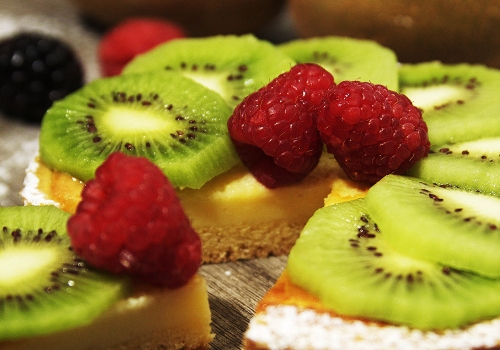 Everyone loves Grandma's cake! A classic pudding with a modern – and flavoursome – twist!
Preparation time: 1 1/2 hours
Grandma's Kiwi cake
INGREDIENTS:
• 6 kiwis
• 200 grams of 00 flour
• 2 whole eggs
• 50 ml sunflower seed oil
• Lemon rind
• 1 teaspoonful of vanilla extract
• 1 sachet of baking powder for desserts
• Icing sugar to taste
METHOD:
In a bowl mix the eggs, sugar, vanilla and grated lemon rind with an electric whisk until you obtain a frothy and light-coloured mix.
Drizzle in the oil and ricotta cheese at room temperature, after sieving one spoon at a time.
Now sieve and add the flour and baking powder, all the while mixing with the whisk on low speed.
Peel the kiwis, cut 5 into slices and 1 into small pieces and add to the mixture.
Pour the mixture into a 24 cm buttered and floured cake tin. Flatten the top and bake in a pre-heated over at 180° for approximately 35 minutes. Obviously cooking time may vary from oven to oven!
Remove from oven and leave to rest for around half an hour, then garnish by gently placing the kiwi slices onto the cake, without pressing down. Once the entire cake is covered, it is ready to be served!