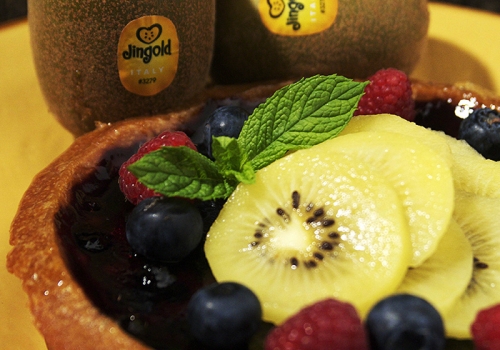 The festive season is almost over…but not our craving for desserts!
Here's a delicious version of a much-loved dessert by young and old: cheesecake! Obviously featuring our very own yellow pulp Jingold kiwis
Preparation time: 30 minutes + 1 hour baking + 3 hours to set in the fridge
Kiwi Cheescake
INGREDIENTS:
For the base:
250 g digestive type biscuits
120 g melted butter
a pinch of cinnamon
For the cheese cream:
500 g fresh cheese
100 g granulated sugar
100 ml of fresh cream
50 g potato starch
3 eggs
the grated rind of half a lemon
Fresh sliced kiwi
forest fruit preserve
METHOD:
Place the broken up biscuits and cinnamon in the mixer bowl and pulverise.
Pour the melted butter in through the special hole on the lid and activate the device once more to mix the ingredients. Place the mixture in a buttered and floured 22 cm diameter springform cake tin. Use a spoon to level off the mixture and leave it in the fridge as you continue preparing the rest of the cake.
Place the cream cheese in a bowl and mix together with the granulated sugar, using an electric whip or planetary mixer. Add the eggs and mix thoroughly.
Add the grated lemon ring, the sieved potato starch and cream (not whipped). Mix until you obtain a smooth and homogeneous mixture which you will then place on the biscuit base. Flatten and bake in an oven pre-heated to 160° for an hour. Leave to cool in the oven with the door open. Leave in the fridge for at least 3 hours.
Before serving, top the cake off with the forest fruit preserve and kiwis.