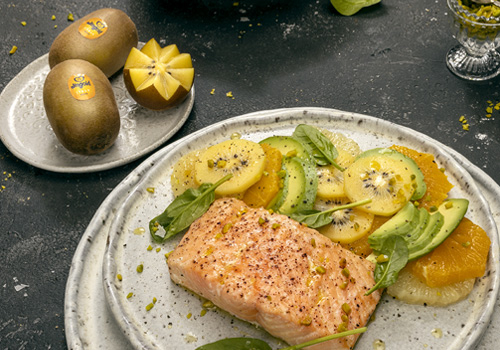 Difficulty: easy
Preparation time: 20 minutes
PREPARATION:
Start by preparing the glazing for the salmon fillet: in a small bowl mix the olive oil with the orange juice, mustard, salt, pepper and the pulp of the crushed garlic.
In a second bowl prepare the salad dressing: emulsify the olive oil with lemon juice, salt, pepper and also add the shallot. Peel the citrus fruits with a sharp knife and then cut thin slices. Remove the seeds and set aside.
Place the salmon fillets in a baking sheet lined with baking paper and season with a drizzle of olive oil, salt and pepper. Bake them in the oven at 180°C for about 15 minutes. Remove from the oven and glaze them with the sauce.
In a bowl prepare the salad: add the spinach, citrus, coarsely chopped pistachios, peeled and sliced kiwis and avocado. Season with the dressing and mix. Transfer the salmon fillets to the serving dishes and serve with the citrus, kiwi and spinach salad.
The baked salmon fillet with gold kiwi is a quick dish to prepare. Looking for more light and healthy inspirations for your table?
Discover all our recipes with kiwi.
Baked salmon fillet and kiwi gold with citrus salad, avocado and baby spinach

 
INGREDIENTS:
4 salmon fillets
1 grapefruit
1 red orange
1 orange
1 handful of baby spinach
2 teaspoons of shelled pistachios
1 avocado
To dress the salad:
2 tablespoons of olive oil
the juice of one lemon
1 chopped shallot
salt
pepper
To glaze the salmon:
2 tablespoons of filtered orange juice
2 tablespoons of olive oil
2 teaspoons of Dijon mustard
1/2 clove of garlic
salt
pepper