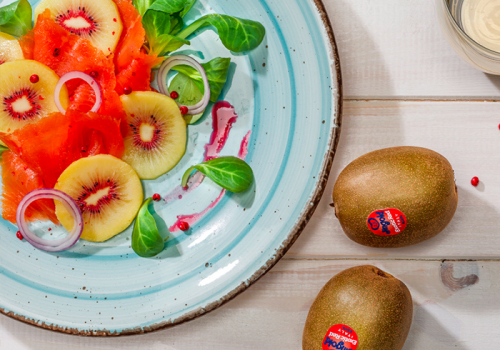 This smoked salmon salad with red kiwi is the perfect combination of fish and fruit for a healthy, quick and delicious lunch!
A real treat for your palate, healthy and very simple to make!
Preparation time: 10 minutes
Smoked salmon salad with red kiwi
INGREDIENTS FOR 2 PEOPLE:
70 g of smoked salmon
1 red Jingold kiwi
a handful of field salad
1 red scallion
1 teaspoon of raspberry vinegar
1 tablespoon of extra virgin olive oil
pink pepper
PREPARATION:
To prepare your salad, first peel and cut the red kiwi into slices of about 3 mm thick.
Cut a few thin slices of red scallion, and emulsify the oil with the raspberry vinegar.
Compose the dish with the salad and the slices of smoked salmon alternated with slices of kiwi.
Sprinkle with the red scallion rings, a few pink peppercorns and season with the previously made emulsion.