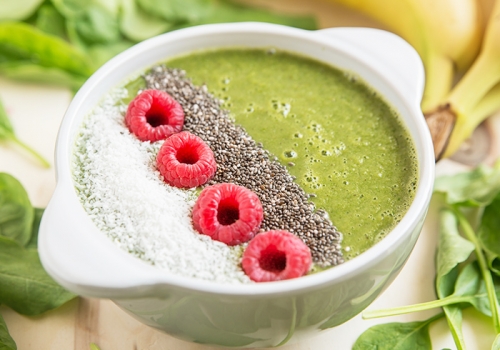 An original, tasty and fun way to eat a large quantity of fruit and vegetables, especially for those who do not particularly enjoy them… A delicious result is guaranteed!
Preparation time: 15 minutes
Green smoothie bowl
INGREDIENTS:
2 Jingold kiwis
2 bananas
100 g of water
spinach to taste
lemon juice grated
ginger flaked
coconut
a tablespoon of blueberries
METHOD:
Peel and chop the kiwis and bananas. Carefully wash the fresh spinach and place it in a blender, together with the lemon juice, water and a little grated ginger. Blend until it is well mixed, without any lumps. Add more water if needed. Arrange the mixture in a smoothie glass or bowl, and garnish with coconut flakes, blueberries and fruit to taste.