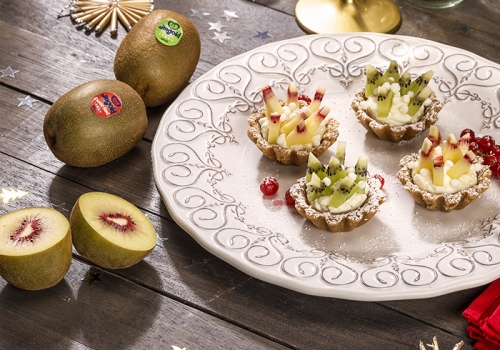 So December is here and that means Christmas is well on its way!
Are you looking for simple and delicious ideas for finger-licking good Christmas recipes?
Today we present our tartlets garnished with delicious #Jingold kiwis, perfect for dessert or as a snack!
Preparation time: 1 hour

Christmas tartlets

INGREDIENTS FOR 10 TARTLETS:
200 g shortcut pastry, rolled out and ready to use
200 g mascarpone
120 ml whipping cream
40 g icing sugar
red and green Jingold kiwis
icing sugar to taste
METHOD:
Line the tartlet moulds with the shortcut pastry. Use a fork to dock the bottom then bake in the oven at 180° for 10-12 minutes. Leave to cool.
Place the mascarpone and sugar in a bowl, whisk using an electric mixer, add the cream and continue whisking until you obtain a creamy and soft mixture.
Place the mousse in a piping bag and fill the tartlets.
Peel and slice the kiwis. Cut each slice into wedges and place them in the mascarpone cream.
Sprinkle with the icing sugar before serving.