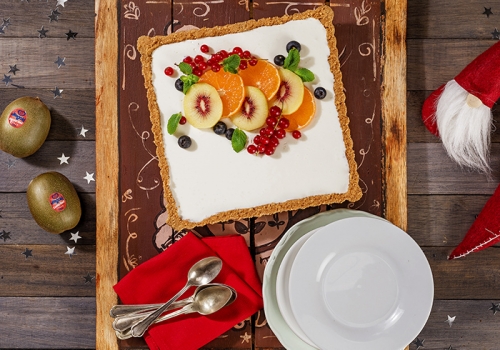 Find out how to prepare this delicious yoghurt and kiwi Christmas cheesecake!
Preparation time: 2 hours
Yoghurt and red kiwi cheesecake
INGREDIENTS:
200 g digestive-type biscuits
120 g butter
300 g whole yoghurt
200 ml whipping cream
100 ml milk
120 g sugar 8 g gelatine
3-4 red Jingold kiwis
1 mandarin
a few sprigs of blackcurrant
blueberries
fresh mint
METHOD:
Finely crumble the biscuits, add the melted butter and stir thoroughly.
Spread the dough over a square baking dish with a removable bottom, press down using the back of a spoon, so as to evenly cover the bottom and edges.
Leave in the fridge to harden, soak the gelatine in cold water for 10 minutes. Heat the milk with the sugar, remove from heat and add the thoroughly wrung out gelatine. Stir to mix the ingredients together then leave to cool.
Place the yoghurt in a bowl, add the milk and the whipped cream, stir delicately.
Pour the mixture onto the biscuit base and leave in the fridge for at least 30 minutes, Decorate according to preference, with slices of kiwi and mandarin, sprigs of red currant and blackcurrant.
Garnish with fresh mint leaves.