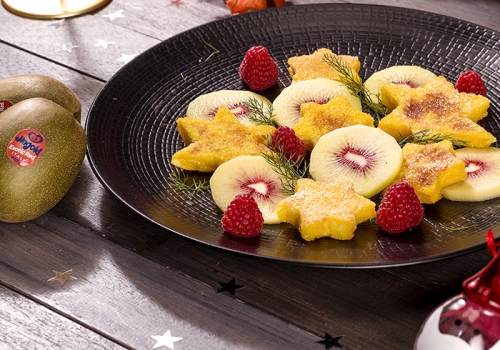 A quick and delicious recipe, inspired by snacks of 'past times' … perfect for adding a touch of Christmas spirit!
Preparation time: 20 minutes
Pandorato with red kiwis and raspberries
INGREDIENTI:
2 long slices of sliced sandwich bread
100 g milk
1 egg
2 kiwi
10 raspberries caster sugar
seed oil
METHOD:
Use a mould to cut the bread into star shapes.
Whisk the egg with a fork in a bowl. Dip the bread in the milk and then in the egg, leave to drip and then fry in a pan, in a little oil.
Place the stars on some absorbent kitchen paper to absorb excess oil, then dip in the caster sugar. Peel and slice the kiwis, arrange on a plate, alternate with the pandorato.
Garnish with fresh raspberries.