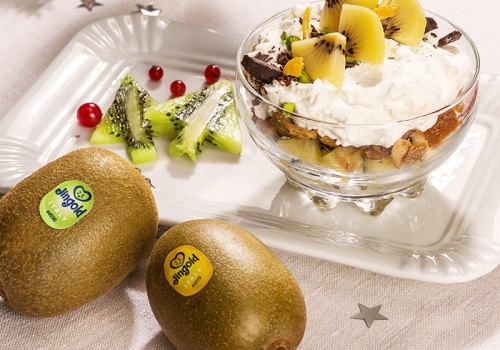 The Christmas holidays are over…but we are still in the mood for a sweet treat! Here is the perfect dessert to bring a little cheer to these winter evenings!
Preparation time: 15 minutes
Cup with ricotta cream, chocolate and kiwi
INGREDIENTI:
3 yellow kiwis
250 g fresh ricotta
80 g sugar
50 g chocolate shards
1 teaspoon grated orange zest
2 Sicilian cannoli pastries to fill
METHOD:
Mix the ricotta with the sugar and grated orange zest in a bowl. Add the whipped cream, delicately mix together.
Peel the kiwis and cut them into 4 wedges then slice them into triangles.
Assemble the dessert in the cup: line the bottom with some kiwi, cover with a spoon of ricotta cream, add a sprinkle of chocolate and top with the coarsely crumbled cannoli pastry. Add another spoon of ricotta and garnish to taste with the chocolate shards and kiwi slices.