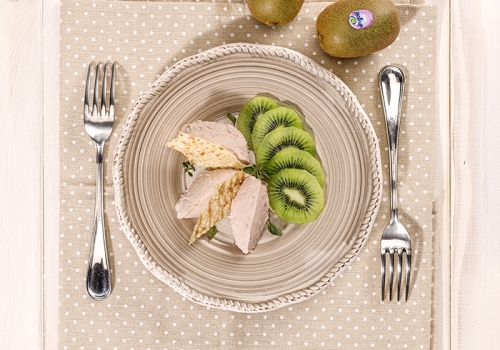 A delicate appetizer made of unique and innovative combinations… ready to taste our mousse?
Preparation time: 10 minutes
Kiwi and ham mousse
INGREDIENTI:
200 g ham
150 g ricotta
2 green Jingold kiwi
100g carasau bread
salt and pepper
METHOD:
Break up the slices of ham and place them in a blender. Blend for a few seconds, add the ricotta, blend some more to obtain a homogeneous cream. Add salt and pepper to taste.
Toast the carasau bread in an oven heated to 180° for 2 minutes.
Peel and slice the kiwis.
Use two spoons to form ham mousse quenelles.
Arrange on a dish, alternate with the kiwi slices and pieces of toasted carasau bread.