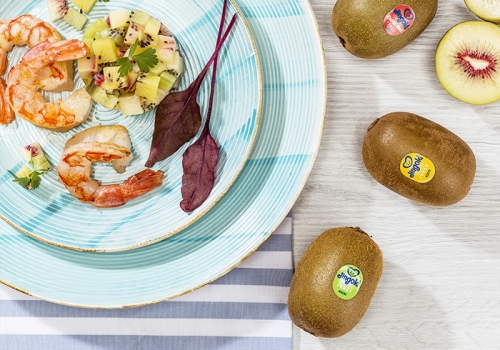 Valentine's dinner at home? We've got you covered. Delicious, tasty and easy to make. To amaze the person that you love…and yourself too.
Preparation time: 15 minutes
Prawn salad with kiwi tartare
INGREDIENTI PER 10 KIWI TARTS:
3-4 prawn tails
1 yellow kiwi
1 red kiwi
1 green kiwi
1 tbsp sour cream
Olive oil to taste
Salt/pep to taste
METHOD:
Peal the prawns leaving the small tale at the end, cut the back of the prawn and remove the black string of the intestine.
Cook them for around 2 minutes in a pan with a drizzle of olive oil and a pinch of salt.
Peal and cut the kiwis in little cubes, place them in a cookie cutter.
Serve the prawns with the kiwi tartare, accompany with sour cream, a pinch of pepper and some fresh herbs of your choice.