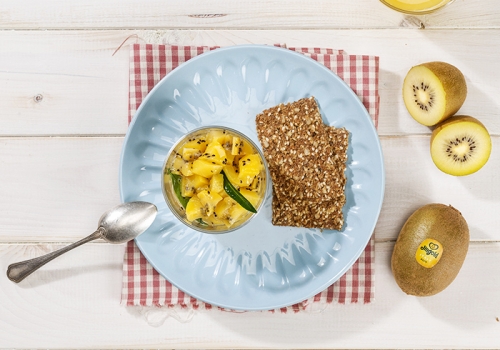 Making jam is easier than it looks.
Discover all the steps to prepare a kiwi jam using Jingold kiwi.
Preparation time: 2 hours
Kiwi jam
INGREDIENTS:
800 g ripe yellow Jingold Kiwi
450 g sugar
Lemon juice to taste
METHOD:
Peal the kiwi and cut them into little cubes. Place them in a deep pot with a heavy steel bottom. Add sugar and stir well. Cover the pot with a lid and leave it to rest in the fridge over night.
After resting, add lemon and place the pot on the stove.
Bring it to boil, cook on a low to medium heat, keep stirring from time to time for around 30/40 minutes.
When it's still hot place in different, dry and sanitised jars. Close them tightly and leave them upside down until they have completely cooled down.