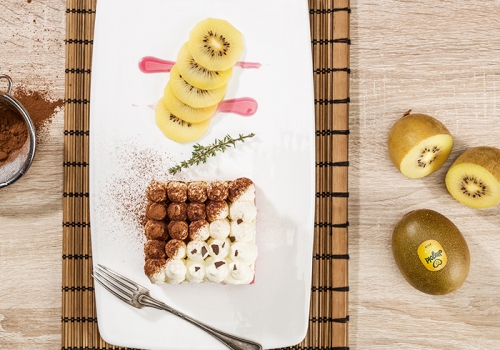 Kiwi and coconut…two exotic flavours that really hit it off!
We used them to prepare this super dessert, the perfect sweet ending to any meal.
Preparation time: 30 minutes
Kiwi and coconut dessert
INGREDIENTS:
1 sponge cake disc
4 yellow Jingold kiwis
250 g mascarpone
200 ml whipping cream
80 g fine granulated sugar
25 g shredded coconut
100 ml raspberry juice
cocoa to taste
chocolate shards to taste
METHOD:
In a bowl whip the mascarpone and the sugar using a hand mixer.
Add the cream and continue mixing to obtain a soft and homogeneous cream. Add the shredded coconut and stir with a spoon. Now fill a piping bag with the cream. Peel and dice the kiwis.
Cut 4 square bases out of the sponge cake, brush on the raspberry syrup.
Top each sponge cake base with a layer of coconut cream, cover with the kiwi and decorate with a few "whisps" of cream.
Sprinkle the cocoa and chocolate shards over half of the dessert.
Garnish and serve with the remaining kiwi.