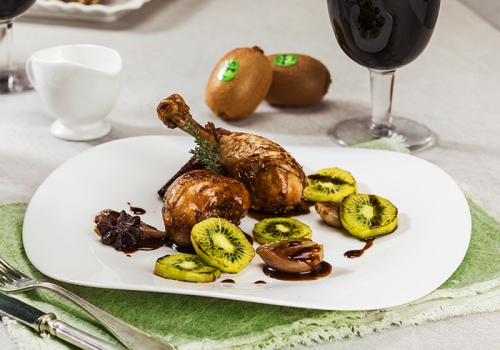 St Patrick's Day has long been celebrated beyond Ireland!
At Jingold we drew inspiration from this truly special holiday, celebrating it with a themed dish: delicious chicken thighs braised with Guinness and kiwis, as green as the lush Irish countryside, of course!
Preparation time: 2 hours
Guinness chicken thighs with braised shallots and grilled kiwi
INGREDIENTS FOR 2 PEOPLE:
500g chicken
33cl Guinness
120 g shallot
100 g green Jingold kiwi
thyme to taste
1 star aniseed pod
1 cinnamon stick
20 g evo oil
salt and pepper
METHOD:
Brown the chicken thighs in some evo oil and add the halved shallots. Season with salt, pepper, fresh thyme, star aniseed and cinnamon. After sizzling for a while, gradually add the Guinness and leave to evaporate. Cover the pan and cook for around 90 minutes.
Once cooked, peel and slice the Jingold kiwis; quickly grill them on both sides in a pan on a high flame. Place the chicken on dishes and garnish with the kiwis.