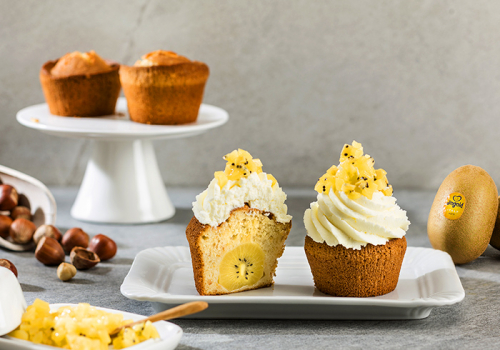 Cupcakes…a feast for the eyes and for the taste buds! Filling them with our #Jingold kiwis only makes us like them even more!
Preparation time: 60 minutes
Hazelnut and kiwi vegan cupcakes
INGREDIENTS FOR 2 PEOPLE:
kiwi 100g
toasted hazelnuts 100g
00 type flour 100g
sugar 80g
1 sachet baking powder for desserts
evo oil 20g
soya milk 40g
sweetened vegan cream 100g
METHOD:
Sieve the flour, baking powder and fine granulated sugar.
Gradually add the evo oil and soya milk, stirring all the while to obtain a homogeneous mix.
Grease the cupcake moulds and fill each one with 2cm of mix.
Now clean and peel the kiwis and add them to the mould. Cover with the mix and bake in the oven at 170 degrees for 20 minutes.
Remove from the oven and leave to rest. Once cooled, whip the vegan cream and use a piping bag to top each cupcake.
Finely chop any remaining kiwi and garnish your cupcakes.