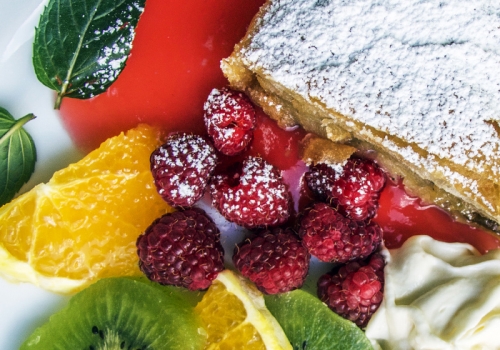 Christmas lunch is round the corner… why not take everybody by surprise with an exotic variant of apple strudel?
Preparation time: 30 minutes + 30 minutes cooking time
Exotic Strudel
INGREDIENTS:
150 g flour
one egg
water
oil
a pinch of salt
5 kiwi fruits
almonds
100 g sugar
METHOD:
Mix the flour, egg, one tablespoon of oil and salt in a bowl and knead the dough for a few minutes to form a smooth ball. Wrap it with cling film and leave to rest for about 15 minutes. Meanwhile peel and slice the kiwi, then mix it with sugar and a handful of chopped almonds. After the dough has rested for 15 minutes, roll it out, place the kiwi in the middle, and wrap the pastry to form a bun not thicker than 3 millimetres. Bake at 200 °C for about twenty minutes and decorate, as you like, with icing sugar but only after leaving the baked strudel to cool!