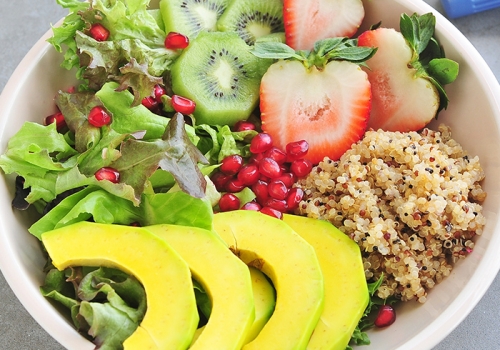 All the wonderful properties of kiwi and quinoa in a delicious and healthy dish..ready in just a few minutes!
Preparation time: 30 minutes
Kiwi and quinoa salad
INGREDIENTS:
2 Jingold kiwis
1 ripe avocado
70 g feta or fresh cheese
Seasonal fruit of your choice
lettuce leaves to taste
30 dextrose
100 quinoa
METHOD:
Start by filling a pot with water and bringing it to the boil. In the meantime, rinse the quinoa under abundant running water. When the water boils, add the salt and then the quinoa. Leave to cook for around 10 minutes (check for more precise instructions on the packet).
In the meantime, peel and cut the kiwis and the avocado up into small pieces. Cut the fresh cheese into small pieces too. If you want you can add some other fruit, strictly seasonal of course.
When the ten minutes are up, drain the quinoa and place it in a bowl. Season with the other ingredients, along with some lemon juice and EVO oil.