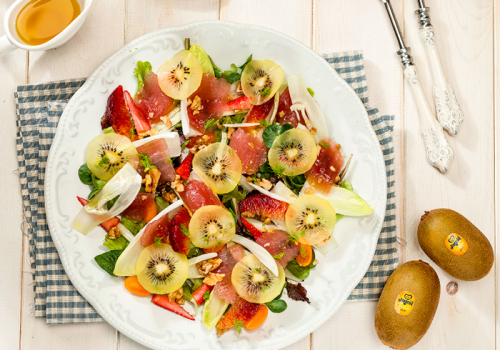 Tuna salad can become even more delicious thanks to yellow Jingold kiwis, a fresh and easy to make summer dish that brings creativity and a touch of imagination to the table.
To tackle new challenges and good intentions for this season, we definitely need a little pick-me-up! Our salad with yellow kiwis and tuna will help you pull through even the most hectic of days, with the indispensable support of nourishing ingredients and vitamins.
Preparation time: 20 minutes
Summer salad with yellow kiwi and tuna
INGREDIENTS FOR 2 PEOPLE:
red tuna 100g
kiwis 60g
strawberries 40g
walnuts 20g
fennel 30g
orange 30g
yellow cherry tomatoes 30g
Belgian endive 40g
Mixed-leaf salad 50g
evo oil 20g
salt to taste
METHOD:
Start by cleaning and chopping up all the ingredients. Peel the orange segments and keep the scraps to one side, extract the juice from the segments. Create thin petals with the tuna and leave to marinade in the oil, salt and previously extracted orange juice.
Arrange the mixed-leaf salad on a plate, followed by all the other ingredients, coarsely crumble the walnut over them and season with any left over tuna marinade.